Choosing to live in an old house comes with plenty of benefits. For starters, most old properties are known for their durable built, quaint charm, rich history, and intricate design. They also give you plenty of room for renovation projects because they're more affordable than move-in ready homes. Then, there's also the matter of their location. Most of the time, these properties are situated in pleasant and quiet neighborhoods, making them ideal for growing families. 
But of course, it's no secret that old homes do need a little bit of work before they become suited for living. One of the most crucial things you must check is the condition of the wires. Find out if you need to call in a professional to rewire your home.   
What are the signs you should rewire an old house?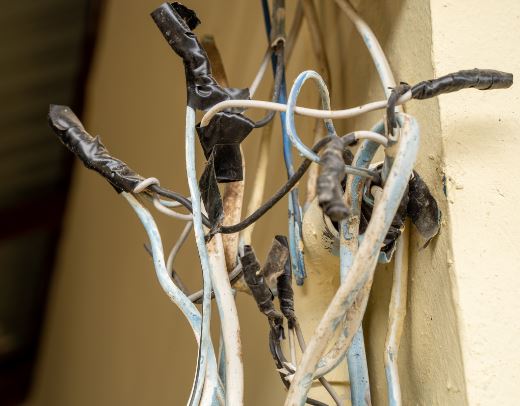 Outdated and deteriorating wiring can cause all kinds of mishaps, including electrocution and fire. Fortunately, there are a few tell-tale signs that you can look out for to prevent potential risks. Some examples include:
Tripping of the circuit breakers or fuses

Intermittent or regular flickering of appliances and lights

Odd buzzing or humming sounds coming from the power outlets

Burning or acrid smell near the outlets
The signs above usually apply for any type of house. Sometimes, such issues arise after 5 to 10 years without rewiring done. For much older houses, such as as those more than 20 years old and has never been rewired before, it's highly recommended to book an appointment with a residential electrician. 
Even if you don't notice any of the signs enumerated above, it's best to have your property checked as soon as possible. This way, you can figure out what you need to update and how much work you need to do. It will also allow you to bring your home electrical system to the latest industry standards. 
Besides addressing possible causes of accidents, rewiring your old home can also improve the structure's functionality. For example, it will allow you to add new power outlets to give way for more appliances. With enough power outlets in a room, you can do away with extension wires. It will also allow you to install power outlets equipped with an on and off switch to help you protect your appliances from power surges.  
Rewiring your property also increases power capacity, so it meets the current demands of your household. Additionally, replacing or upgrading residential electrical wiring helps with the following:    
Rewiring allows you to add dedicated circuits that can stabilise the system.

New wiring systems usually include ground fault circuit interrupters. These are essential in preventing electrocution and other damages in bathrooms, kitchens, and outdoor areas around the house.
I think I need a home rewiring; what's next?
Before starting your house rewiring project, it's helpful to know a few things like your household's average electric consumption. Check every room and take note of the number of lights and power outlets present. You must also list the appliances in each room and determine how often you use them. See that you include every part of your home, including your basement and attic. Also, don't forget to list the HVAC system plus water heating equipment. 
It's also a must to familiarise yourself with local building and electric codes. Before you can have any electrical project started, you must ensure that it meets the local regulations. Find out what type of wires you need to use, the required number of outlets, and other essential details. Typically, an experienced local electrician can help you with the technicalities of the project.
You should also have a comprehensive electrical inspection to know more about your home's internal structure. This way, the electricians can identify which parts contain load-bearing and plumbing work before they grill holes.
How much does rewiring an old house cost?
The cost of a residential rewiring project varies. Most of the time, it depends on the amount of work to do, the items that need replacement, the size of the property, and the scope of the electrical inspection service. 
The final costs can also be affected by the types of materials you want to use, the electrician's travel cost, GST, and installation cost for a washing machine or heater power point. Your expenses could also significantly increase if you need to book additional services such as: 
Downlight installation/replacement

Spa outlet installation

Hot water equipment power point installation

Switchboard upgrade

Full house extension/renovation

Garage wiring installation

Single light switch installation/replacement
To give you an idea on the typical market costs of electric repairs and services cost in Auckland, check the table below:
| | |
| --- | --- |
| Hourly rate of an electrician  | $40 to 90 + GST |
| Hourly rate for apprentice electrician  | $25 to 45 + GST |
| Power socket installation or replacement | $150 to 250 |
| Electrical system inspection | $250 to 400 |
| Installation of new power point | $185 to 420  |
| Wiring upgrades  | Depends on the type of material you need to use and the  size of the property  |
If you would like to get a more accurate quotation, you need to consult with your local electrician. This way, they can inspect the property and provide you with a more detailed plan. 
Book a rewiring job today!
The last thing you want is to deal with expensive or dangerous mishaps caused by faulty or damaged wires. If you currently live in or plan on refurbishing an old house, it would be wise to have your wires checked and replaced. The sooner you get to it, the better! 
And don't attempt to handle the job on your own. It's dangerous and not to mention impractical. Many trained electricians in New Zealand can lend you a hand with your project. With a professional service, you don't need to worry about checking the local building and electrical codes or finding the right tools, equipment, and materials to use. On top of that, you can expect to see results and ensure your home's safety for many years.          
Get your house rewired as soon as possible. COMPANY NAME is here to assist you with your needed electrical service. We have friendly and experienced technicians who can handle any scale of home rewiring job. Call today to book an appointment.